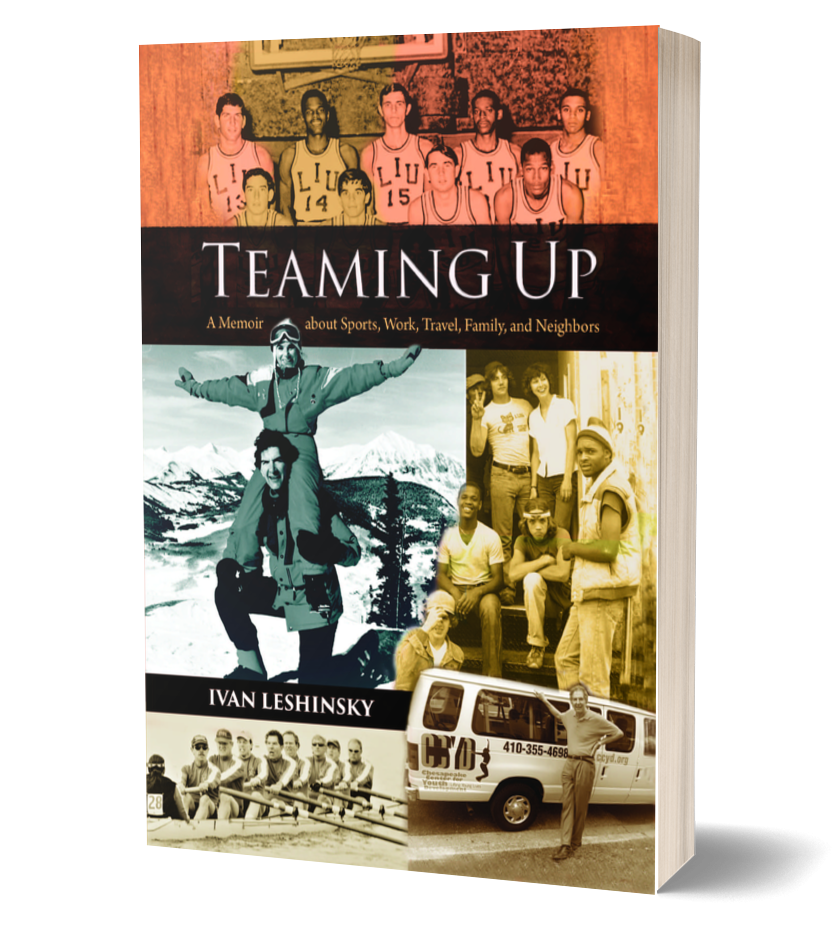 TEAMING UP, A Memoir About Sports, Work, Travel, Family and Neighbors.
We all have our personal journeys through life. Ivan Leshinsky has written his down meticulously and highly personal in its detail. He starts off with the revelation of how his grandparents escaped the anti-Semitism and pogroms in Russia to come to America at the turn of the 20th century, and how they struggled to carve out a better life for their families for generations to come.
His autobiography chronicles his most profound childhood and adolescent memories, his basketball career at Long Island University and beyond and a lifetime of work experiences as a waiter, taxicab driver, counselor, professional basketball player, recreational therapist, teacher, group home director, restaurant manager and coach, all leading up to his 37 years as the Executive Director of the Chesapeake Center for Youth Development in Baltimore.
The book offers insights into cultural proficiency and some will find it inspiring and informative as Ivan describes the intricacies of running a nonprofit organization that addressed some of Baltimore's most intractable social problems: juvenile delinquency, substance abuse, poverty, crime and the "school to prison pipeline."
Along with his life experiences and long career, Ivan's story goes beyond the thrill of a life well-lived and describes in detail several unexpected jolts and disappointments. It transcends the national, ethnic, social, and cultural boundaries within which most of us reside all too comfortably and complacently. Leshinsky is never afraid to confront his own complexities and contradictions, as well as conflicted ideas about the role of religion in his life and in his community.
The book is interspersed with several episodes of extensive adventurous travel abroad and a lifetime commitment to staying physically active beyond basketball by engaging in a variety of sports from crew rowing to skiing. But throughout the book, Ivan answers a pivotal question. What does it feel like to be part of a team, contributing to the greater good and a commitment to improving the lives of others through community work and nonprofit boards of directors? It's all here.
Teaming Up provides an equally entertaining, interesting, and at times moving account of a life well-lived with photos that bring the text alive. Meticulous and highly personal in its detail, Leshinsky vividly demonstrates how one's views, values, and actions are derived from the accumulation of experiences and encounters, many inspiring and uplifting, yet some troubling and even tragic.
Dr. David L. Andrews, Department of Kinesiology, University of Maryland, author of Making Sport Great Again: The Uber-Sport Assemblage, Neo Liberalism, and the Trump Conjuncture (Palgrave, 2019).
Leshinsky's engaging seven-decade diary brings to mind John Lennon 's famous take on life as something that happens when you
are making other plans...
Edward Hershey, author of The Scorekeeper, finalist for 2018 Oregon Book Award.
Athlete, social entrepreneur/activist, traveler, and family man, Leshinsky's story is an inspiring example of how we can all find purpose and meaning in life, even in our twilight years.
Noo Saro-Wiwa, author of Looking For Trans Wonderland (Sunday Times Travel Book of the Year, 2012)
We all have our personal journeys through life. Ivan Leshinsky has written his down. His story is an inspiration. I especially encourage you to read it if you feel at all concerned about our future. lt is the Ivan's of this world that make it a better place.
Michael Seipp: Former Deputy Commissioner, Baltimore Housing, Activist, Gadfly,
Father, Husband, Grandfather, and Painted Screen Artist.